Online talk and offline projection screening
Sign Night: Sign Botanics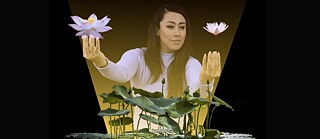 Sat, 08.10.2022 6:30 PM - 8:00 PM
Shanghai Duolun Museum of Modern Art
No. 27 Duolun Road
Hongkou District
Shanghai

Details
Language: English, Chinese, Chinese sign language
Price: Free of charge
Access:


Ticketing:

Botanical Graffiti is a project that connects sign language and the natural world using music and sign language poetry. The project seeks to explore the visual detail and diversity that sign language has to offer in the storytelling of the secret lives of plants. The research and development of botanical sign language through this project will enable deaf people to communicate messages about the bio-diversity emergency to the wider world through the creation of mesmerising art projections.


Online Talk between Cathy Mager and Alice Hu

A recap of the spectacular projection mapped imagery that seeks to transform buildings in cities worldwide with botanical sign language performance, 'greening' buildings in eco-sign language. The project has drawn comparison between the exploitation and oppression of language and the bio-diversity emergency. The project is developed remotely between Cathy Mager in Bristol and Alice Hu in Shanghai, transforming Cathy's poem into a sign language performance by Alice. Here they will discuss their collaboration with the Shanghai Duolun Museum of Modern Art and Cathy's partners in Bristol throughout the months leading up to their performance on the International Day for Sign Language on 23rd September 2022 and their future plans for Earth Day in 2023 as they strive to use "Sign Language graffiti" as a digital artistic medium to shine light on the previously overlooked Deaf community and their native language.

The talk is in Chinese Sign Language (CSL) and interpreted into Chinese, English and Bristish Sign Language(BSL).


Introduction to the artwork:
"As my hands unfurl, my heart opens to the sky"
Spectroscope is proud to present Sign Night: Unfurl, a new sign language projection by Artistic Director Cathy Mager in collaboration with Artist Alice Hu.

Sign Night Shanghai is a projection artwork created from research by Spectroscope into botanical sign language performance. Unfurl is written by Cathy Mager, the acclaimed creator of Sign Night and performed by Alice Hu. The work is inspired by the majestic lotus flower as a metaphor for deaf resistance and identity. The project explores storytelling of plants through the visual vernacular of sign language. The long term aim of the project is to share messages about the bio-diversity emergency around the world through mesmerising projection art. Supported by British Council China and DAWA.


Cathy Mager
Cathy is a pioneer of sign language projection mapping. Sign Night a film commissioned by BBC Arts, The Space and Unlimited in 2021 has been screened internationally and has won several awards. Sign Night was reimagined as a site specific artwork, Hand Ships Sail at Arnolfini for Bristol Light Festival in 2022. Cathy is an artist, producer and curator acclaimed for her powerful and vibrant cultural programmes that explore equity, climate change and heritage.

Alice Hu Xiaoshu
Alice is a Shanghai-born deaf visual artist, deaf activist, sign language teacher and sign language interpreter for multi-national sign language, music, video and live performances. Out of her love for art, she went to Vienna, Austria to study for four years and received a Master of Fine Arts from the Vienna State University of the Arts. She has worked and lived in Austria for more than ten years, and has participated in film and theater performances for more than fifteen years. Performed as a sign language interpreter at the Eurovision Song contest. Her own founding The project "Explore the Silent World and Build a Bridge of Communication", as well as other deaf-hearing interactive experience workshops. She was nominated for the "Her Abilities Award" in the Arts, Culture and Sports category in 2019, was included in the 32nd Outstanding Deaf Women Newly Discovered List of Distinguished Deaf Women Who Changed the World by Unusual Verse, and was included in the POWER OF DEAF WOMEN Most Outstanding by Deaf Nation of America List of Influential Deaf Women. She is currently invited to be the 2022 International Accessible Culture Festival - "Diverse as We Are" ("Diverse as We Are" - China International Festival of Inclusive Culture (DAWA)) Deaf Ambassador / Deaf Cultural Accessibility Consultation and participating programs.