Performance screening with public talk
Diverse Dance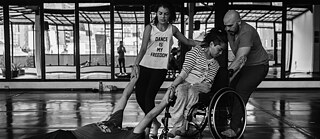 © Camila Malaver - ConCuerpos Company, Colombia
Sat, 17.09.2022 6:30 PM - 8:30 PM
Miguel de Cervantes Library
208 Anfu Road
Xuhui District
Shanghai

Details
Language: Spanish, Chinese
Price: Free of charge, pre-registration needed
Access:


Ticketing:

Miguel de Cervantes Library organizes Diverse Dance, with two of the most impressive inclusive dance companies in Latin America and Spain. ConCuerpos is the pioneering contemporary dance company in Colombia, which includes diverse dancers -with and without disabilities- in its creative work. Its political commitment is to break down barriers of participation, transform static notions about dance, and contribute new ethics and aesthetics to the socio-cultural context.

With the collaboration of the Colombia Embassy in China and its consulate in Shanghai, we will screen IRA the documentary. In 2021, the video artist Camila Malaver followed the process of creating the dance work IRA by the company ConCuerpos. IRA is a three parts work that addresses how the feeling of anger arises in the face of injustice and has the potential to generate individual and collective change. The documentary presents how three choreographers worked on developing their own perspectives on the subject, working collaboratively with dancers with and without disabilities. This creation process also developed an artistic language based on the notion of Universal Accessibility, integrating Sign Language and audio descriptions as part of the dramaturgy.

In collaboration with the Ministry of Culture and Sports in Spain, INAEM, and the Regional Government of Andalusia, we also present In Vain, done by Danza Mobile, a company based in Seville, Spain. Over the years, it has become a pillar in the professional dance world with a national and international projection and collaborations. In Vain inhabits the spaces that arise from a sculptural work. In this piece, what matters are the gaps left by the object. In those empty spaces start all the language that the Company proposes. How many small thoughts, experiences, or visions full of strength and beauty stay in the intimacy of a person and remain unnoticed by the majority. It is in that empty space, in that small insignificant moment for the world, where our journey begins, in vain.

After the screenings, there will be a round table with Esmeralda Valderrama, director of Danza Mobile, and Laisvie Andrea Ochoa, director of ConCuerpos, moderated by Seetoo Chiayi.