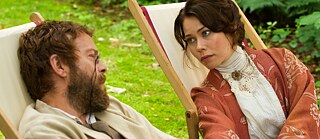 © Rolf Kronow
Fri, 14.10.2022 7:00 PM - 9:00 PM
Department of Culture and Education, German Consulate General
101 Cross Tower, 318 Fuzhou Road
Huangpu District
Shanghai

Details
Language: Danish with Chinese subtitles
Price: Free of charge
Access:


Ticketing:

Marie Krøyer was married to the great Danish painter P.S. Krøyer. At the peak of their marriage, Krøyer's mental illness is getting more severe and their dream of sharing a life as artists is crumbling and turning to frustration and sorrow. For Marie, it is the frustration of being torn between her roles of wife, mother and artist; of not being able to express herself through her art and the sorrow of seeing her beloved husband slowly changing and slipping further into insanity. To get some peace and regain strength, mother and daughter take a vacation where Marie meets and falls in love with Swedish composer Hugo Alfvén. Marie boldly leaves her husband for her new love, knowing only little of the world-shattering choices that lie ahead of her.