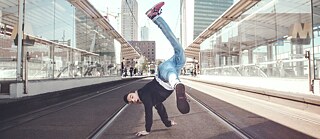 © Fotograaf / Thijs Huizer
Sat, 17.09.2022 7:00 PM - 9:00 PM
Department of Culture and Education, German Consulate General
101 Cross Tower, 318 Fuzhou Road
Huangpu District
Shanghai

Details
Language: English with Chinese and Chinese sign language
Price: Free of charge
Access:


Ticketing:

Redouan Ait Chitt, better known as REDO, is a professional dancer and speaker from The Netherlands who travels around the world for shows workshops, lectures and competitions.

At the DAWA Festival Redo will share his remarkable life-story about growing up with a disability and how he discovered and developed his passion for dance.

Redo believes that, with the right attitude, personal drive and by stepping out of your comfort zone, one's own limits can be pushed.

If there's one thing he hopes the audience will remember after his talk, it's the motto: "NO EXCUSES, NO LIMITS".