Online workshop
Virtual Inclusive Dance with the Colombian company ConCuerpos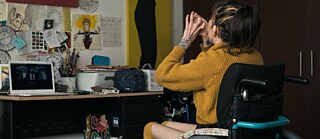 © Camila Malaver - ConCuerpos Company, Colombia
Sat, 24.09.2022 10:30 AM - 12:00 PM
Miguel de Cervantes Library
208 Anfu Road
Xuhui District
Shanghai

Details
Language: Spanish, Chinese
Price: Free of charge, pre-registration needed
Access:


Ticketing:

With the collaboration of the Colombia Embassy in China and its consulate in Shanghai, Miguel de Cervantes Library organizes a virtual inclusive dance workshop with the Colombian company, ConCuerpos. The main objective of ConCuerpos workshops is that the participants find a better understanding of their body and its possibilities of movement, recognizing their uniqueness within the group. In this way, each person will gain greater freedom and openness to the pleasure of body expression while finding spaces for meeting and creating with others. In this sense, it is important to highlight that the goal is not for people to learn a series of steps but to experiment and create new ways of moving through specific work guidelines, using body awareness, improvisation, and creation. Since it is a virtual workshop, the exercises are designed to be performed in a small space.