Performance screening with public talk
Supernormals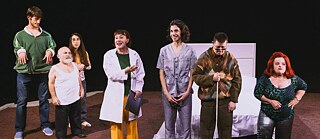 © Luz Soria
Sat, 24.09.2022 4:00 PM - 6:30 PM
Miguel de Cervantes Library
208 Anfu Road
Xuhui District
Shanghai

Details
Language: Spanish, Chinese
Price: Free of charge, pre-registration needed
Access:


Ticketing:

In collaboration with the Ministry of Culture and Sports in Spain, INAEM, Centro Dramático Nacional, and CDAEM, Miguel de Cervantes Library presents Supernormals. This comic play confronts us with our preconceptions about people with functional diversity. Most of these people have [historically] been practically denied [historically] the experience of their natural sexuality. Moreover, they have been placed [furthermore] outside of desire. From this point, the director intends to include also her reflections on the creation with diverse people and on the difficulty of eliminating the existing barriers to the entry, understanding, or enjoyment of the theatrical work being seen [or not!].

After the screening, Shi Tang, producer of Shanghai Dramatic Arts Centre, will be talking with the playwright, Esther F. Carrodeguas, the director Iñaki Rikarte, and Fefa Noia, associate director of the Dramatic National Center, which is the executive producer of the play Supernormals.