Movie
I don't wanna dance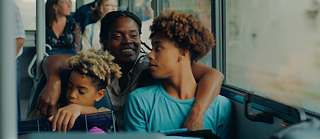 © The Rogues
Wed, 21.09.2022 7:00 PM - 8:30 PM
Department of Culture and Education, German Consulate General
101 Cross Tower, 318 Fuzhou Road
Huangpu District
Shanghai

Details
Language: Dutch, English and Chinese subtitles
Price: Free of charge, pre-registration needed
Access:


Ticketing:

After having lived with their aunt for two years, fifteen-year-old Joey (Yfendo van Praag) and his younger brother move back in with their mother (Romana Vrede) to their great delight. At first everything goes well: the house is tidy, the fridge is filled, Daphne has a job and Joey finds his place in a dance group. It promises to be a beautiful summer. But the family joy soon comes under pressure when Daphne falls back into her old patterns. Joey does everything to keep child services out, but how long can he keep up this destructive dance with his mother, at the expenses of his own happiness? I Don't Wanna Dance is a true story, told and acted by the boy who experienced it himself.