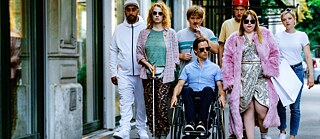 © Jürgen Olczyk / Sony Pictures Entertainment Deutschland GmbH / Wiedemann & Berg Film GmbH & Co. KG
Wed, 14.09.2022 7:00 PM - 9:30 PM
Department of Culture and Education, German Consulate General
101 Cross Tower, 318 Fuzhou Road
Huangpu District
Shanghai

Details
Language: German with Chinese subtitles, Chinese sign language and live audio description in Chinese
Price: Free of charge, pre-registration needed
Access:


Ticketing:

Oliver was a hard-working financial investment adviser when a sudden car accident left him partially paralyzed and in a wheelchair for the rest of his life. But he is not resigned to his fate, and joins the Goldfish Club with a group of handicapped people in a rehabilitation center. When he finds out that his illegal funds in Zurich are about to be exposed, he comes up with an idea: to lead the "Goldfish Club" to Zurich and sneak across the Swiss-German border with a huge sum of money under cover. The members of the Goldfish Club, however, send Oliver on a thrilling road trip.