Performance screening with public talk
Scores that shaped our friendship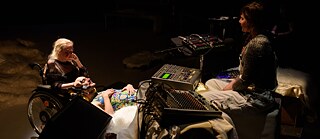 © Jean Marc Turmes
Fri, 23.09.2022 6:30 PM - 9:00 PM
Department of Culture and Education, German Consulate General
101 Cross Tower, 318 Fuzhou Road
Huangpu District
Shanghai

Details
Language: German, English with Chinese subtitles, Chinese, Chinese sign language
Price: Free of charge, pre-registration needed
Access:


Ticketing:

Scores that shaped our friendship is about togetherness. It's about attention to detail and fun. Lucy Wilke and Paweł Duduś explore the scope of their relationship, their friendship. Their poetic tendencies, their urge for sensuality and the challenges that build us up in playful interactions.
This cocktail of personalities also challenges the stereotypes and normative perceptions in society and culture that eagerly mark, marginalize and discriminate against everything that is different. We respect our diversity and celebrate the non-normative. This work offers insights into an alternative way of living and being. It shows qualities and values that we wish to be more present in our daily lives.
Together we focus on the embodiment – the atypical embodiment. We embody our memories, our dreams and wishes. We embody beauty. We are beautiful.