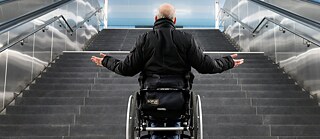 For Better Inclusion
The Way People with Disabilities See Themselves
By Henning Schmidt
Am I disabled? Will I become disabled? Is "disabled" the right word at all? Journalist Henning Schmidt has been living with some restrictions since he was born. He feels that in order to help people feel integrated into society, the focus should not be on language and terminology.
I was born seven weeks too early. During the birth, my brain suffered from an insufficient supply of oxygen. The result – poor eyesight. Should I try to get a driving license? Out of the question. Should I go cycling? Maybe in the country, but certainly not in Potsdam, where I live. Too dangerous. There is also a mildly pronounced spasticity. So am I disabled?
Deutsche Sozialrecht
(German Social Law) gives a clear answer here. Section 2 (1) of the Social Insurance Code (SGB IX) states, "People with disabilities are people who have physical, emotional, mental or sensory impairments that, in interaction with various barriers, whether environmental or attitudinal, may most likely hinder their full and effective participation in society on an equal basis with others for longer than a period of six months." That's exactly the case with me – I have both a physical and a sensory impairment. And not just for six months, but forever.
Words in Themselves Are Not the Problem
So I am disabled, even with two disabilities. I don't find these terms bad on their own, my disabilities are medical facts. I never felt the need to replace them with something else, like "impairment" for example. Nevertheless, I have become more sensitive when speaking about them. The fact that I am officially certified as "severely disabled" and have a severely disabled person's pass is okay with me. I don't need an additional pass – like the "Schwer-in-Ordnung-Ausweis" (severely-cool-guy/gal ID), as the activist Hannah Kiesbye would like. On her initiative, this can now be applied for at several social security offices and comes in the form of a printed ID cover for the severely disabled person's pass that conceals the term "severely disabled" and replaces it with "severely cool guy/gal". For some this is important – thousands of ID cards have already been issued and the initiative sparked a debate in the Bundestag – I don't have one.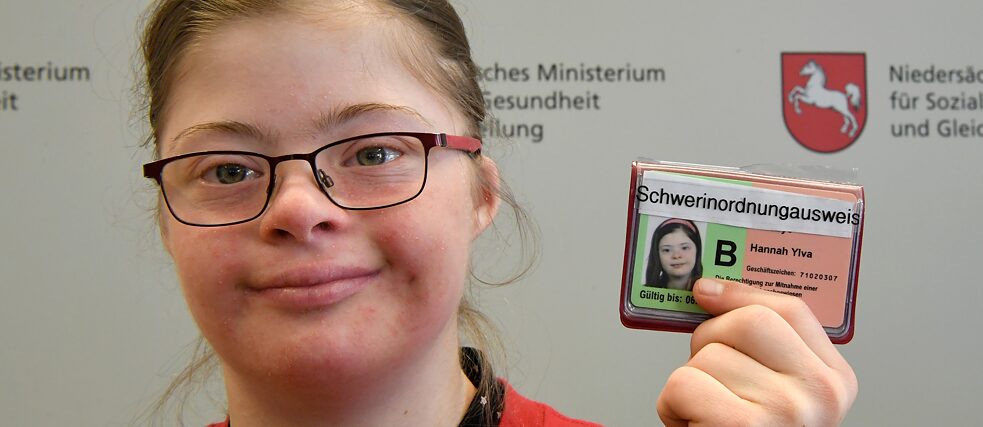 For some, her initiative is very important, for others it is irrelevant – the first self-made "Schwer-in-Ordnung-Ausweis" (severely cool guy/gal ID) by activist Hannah Kiesbye sparked a debate in the Bundestag about the treatment of people with disabilities. | © picture alliance / Holger Hollemann/dpa | Holger Hollemann
Nevertheless, I now consistently speak of myself as a "person with disabilities" and no longer as a "disabled person", and I always introduce myself as a "journalist with disabilities" instead of a "disabled journalist". It is very important for me to be seen that way. For me it makes a difference whether the attribute is in front of the word or not. If this is the case, everything else takes a back seat to the word "disabled". First and foremost you are disabled, then you are a person or a journalist. This always implies something derogatory. The following applies to me – I have disabilities, but they are only one aspect of my personality.
Where, When and How Am I Disabled?
The medical concept of disability is now rejected by many and the social model of disability is an alternative. The motto – I am not disabled, I am disabled by my environment. According to this point of view, the disablement only arises in interaction with one's surroundings – being dependent on a wheelchair is not a problem until you come across a staircase.
Is this something I can endorse? Definitely! Being disabled is also part of my everyday life. For example, many streets in Berlin and Potsdam are incredibly poorly lit. Either there are no street lamps or the light is directed more into the sky than onto the street. My orientation is not good even at the best of times, bad light only makes it worse. Buses without electronic stop displays or subways that rumble loudly over the rails with their windows open that I can barely hear the stop announcements are also problematic.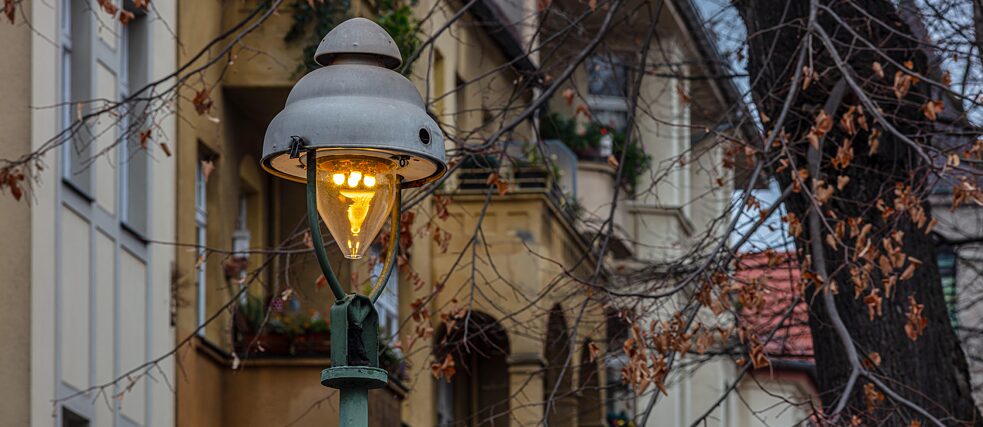 Sometimes there are no street lights, sometimes they don't provide enough light. The lack of street lighting in Berlin has an adverse effect on people with a visual impairment. | © picture alliance / Zoonar / Maurice Tricatelle
I don't, however, just come across obstacles on the street or on public transport. Perks that are supposed to make my life easier are often not that easy to implement. Thanks to the severely disabled pass, I can take accompanying persons with me to the theatre, concert or museum free of charge. In the digital booking systems of cultural institutions, however, the option of a free ticket for a companion is often not available at all. The result – awkward phone calls or e-mail hassle with the ticket sellers. When I go to a museum, the information boards are often in very small print or are attached to the exhibits in the glass showcase. These days, however, there are at least often good audio guides, so that information boards are no longer as important as they used to be.
When it comes to travelling by German railways (
Deutsche Bahn
) it is also impossible to exercise the right to a free reservation in their booking app. In short, I do not actually experience any overt discrimination, but various inadequacies in public spaces prevent me from leading my life in a more self-determined and satisfied way.
Inclusion Should Embrace Many Instruments
What does this all mean for an inclusive society, how can we move forward? In my opinion, you need a mix of different instruments. Some things can be solved structurally: more street lights, more ramps and elevators for wheelchair users, quieter subways. Other things are more of a technical nature – it must become easier for everyone to take advantage of discounts. If that doesn't come about by itself, then introducing new laws shouldn't be taboo, either. If, for example, the railways do not include the free reservation in its apps at all, they should be forced to do so, the same goes for the developers of ticket booking software in the cultural sector.
In other areas things look much worse – and are more difficult. Inclusion in education must finally become a matter of course. So far it has mostly been prevalent in
individual projects
. The media can also help make society more inclusive. Public broadcasters in particular have a duty here – they must provide information and entertainment in barrier-free form, for example, through subtitling, image descriptions for blind sign language interpreters or the use of simple language.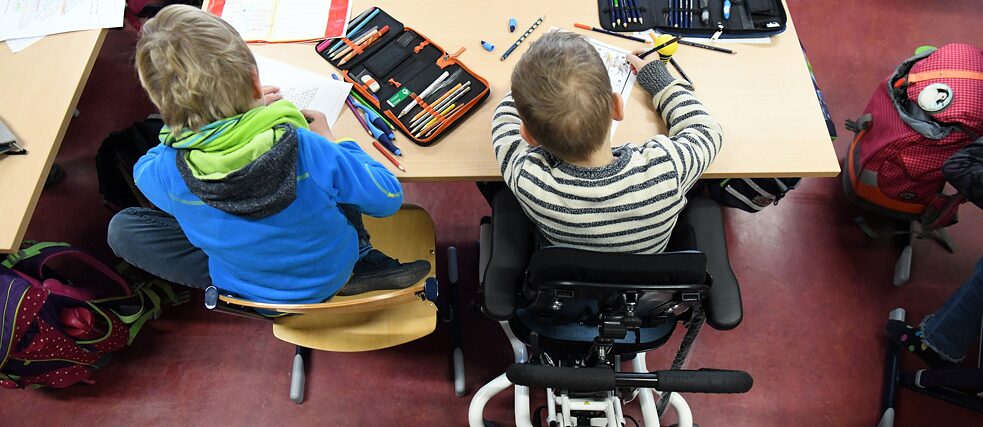 When it comes to inclusion in schools, it is usually only to be found in individual projects – as an inclusive primary school, the Rosa-Luxemburg-Grundschule in Potsdam enables children with and without disabilities to learn together. | © picture alliance / Maurizio Gambarini / dpa
In addition, there should also be an obligation to show people with disabilities and their issues in their program range. And it should be done in a way that empowers those affected – don't talk about people with disabilities, but talk to them. How this can be done was shown in September 2021 by a project by
radioeins
, one of the radio stations with the greatest reach in the Berlin-Brandenburg region, which is produced by my employer
RBB – Rundfunk Berlin-Brandenburg
(Berlin-Brandenburg Radio). Under the title
radioeins inklusiv
, employees from workshops for people with disabilities designed one hour of programming per day for one week together with the editorial team. There was a discussion, for example, on ways for people with disabilities to make it onto the general labour market. By the way, the feedback from the listeners was very positive – inclusion seems to be very much appreciated!
At a Snail's Pace, But It's Moving Forward
To summarize again briefly: Firstly – yes, I am disabled. However, it is important to me that this fact does not dominate everything else. Secondly – I run into annoying obstacles in everyday life that I would like to remove. I am disabled and will be disabled by my environment. Thirdly, there is still a lot to be done to achieve more inclusion, especially in the field of education and the world of work. Will we ever achieve inclusion to the extent that the United Nations has laid down in the Convention on the Rights of Persons with Disabilities? I'm somewhat sceptical about that. Nevertheless, interest in the topic is on the up and up and acceptance is also increasing. Progress is at a snail's pace, but inclusion is nevertheless moving forward.