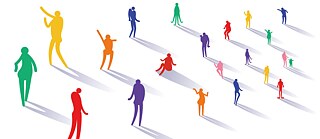 Celebrating Inclusive Culture: DAWA's Origin Story
By Sue Mengchen Xu
At the heart of Shanghai's decades of exchange with the world are the city's foreign consulates, nurturing a vibrant domestic culture, one dialogue at a time.
These dialogues are often made possible by translation. At the Department of Culture and Education of the German Consulate General in Shanghai, visitors have noticed a less common language in recent years: sign language. For many, it was their first time seeing a sign language interpreter in person and their first time recognizing the attendance of those with hearing impairment.

Sign language interpreter Tang Wenyan (left, standing) accompanying guest speaker Jin Xing (right, seated) during the Goethe Open Class 2019 | © AKuB
Before serving the arts, we need to serve the people
The service was initiated by Dr. Oliver Hartmann, Director of the Department of Culture and Education of the German Consulate General in Shanghai. In 2018, he collaborated with the Shanghai International Deaf Film Festival to host Chinese and German deaf artists for screenings and workshops in the Department's public space, providing interpretations of Chinese sign language and International sign language besides Chinese and English.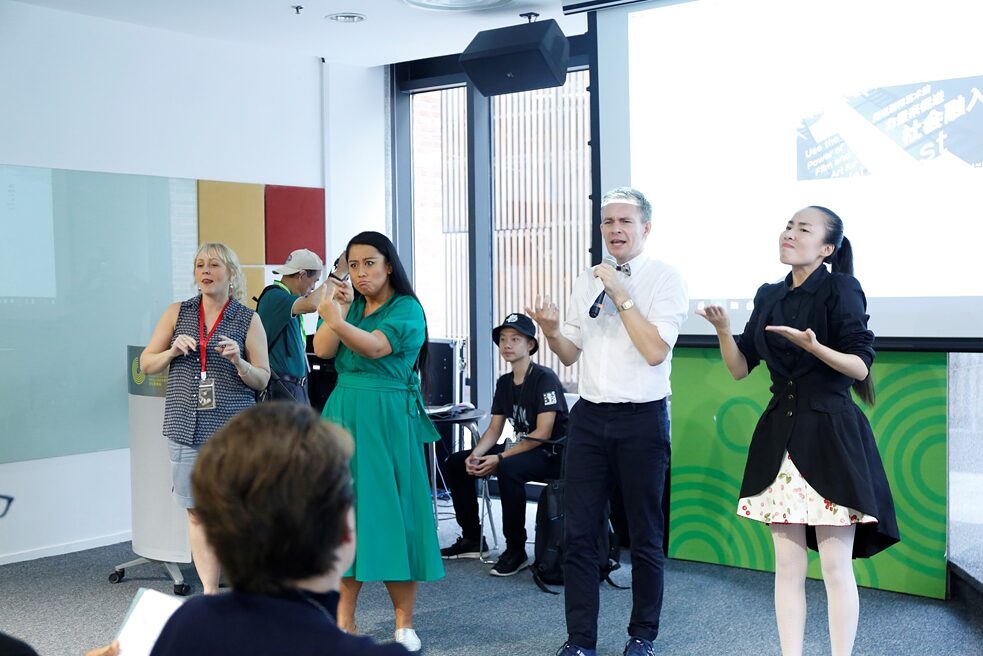 Oliver Hartman (second to the right) speaking at the 2018 Shanghai International Deaf Film Festival accompanied by three sign language interpreters: Tracey Arrowsmith (British sign language, first to the left), Alice Hu (International sign language, second to the left), and Tang Wenyan (Chinese sign language, first to the right) | © AKuB
As a dance enthusiast, Oliver Hartmann had encountered dancers from the disability community in Germany, but it was his first time interacting with people from the disability communities in China. While marveling at the talents of the artists, he was also moved by the energy in the audience. There were young creators, art lovers, and parents with children, most of whom are deaf or hard of hearing. With the service of sign language interpreters, they participated in the activities with passion and socialized at ease, no less than the audience at any of the Department's other events.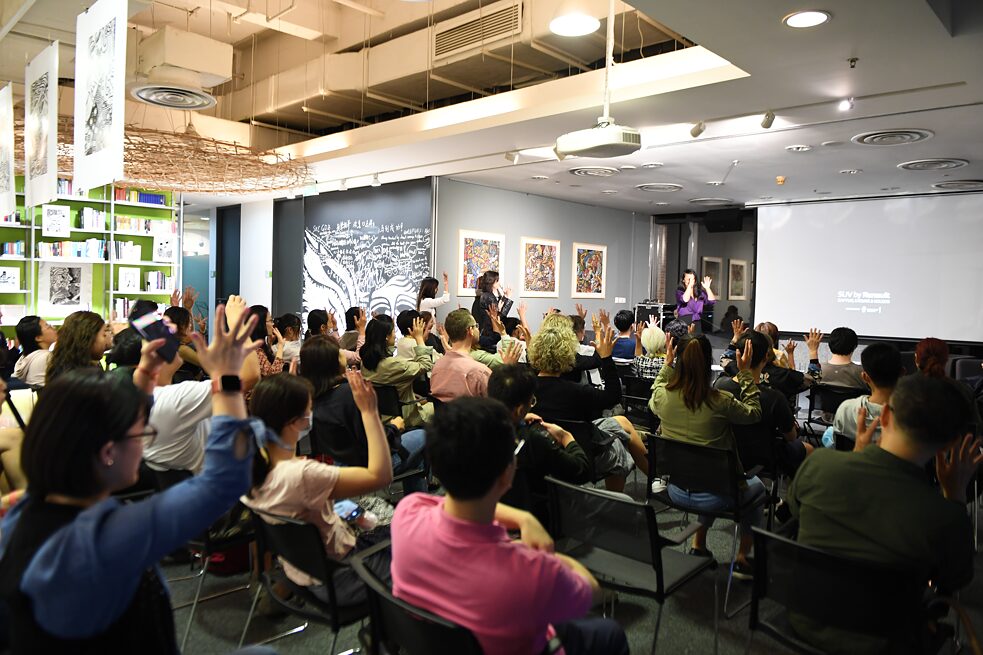 Audience applauding in sign language at "EYEth Art" artist talk 2020 | © AKuB
Since then, Oliver Hartmann has incorporated sign language interpretation into the Department's program as a regular service. He believes that the Department should serve the people, before serving the arts. When people with disabilities have access to cultural events as equal members of the audience, "art and the rest will follow." DAWA–Diverse As We Are–International Festival of Inclusive Culture thus came into being.
Everyone should have the right to see images
For the DAWA Festival, people with disability are not only the performers on stage or the guests sitting in the audience, but also part of the decision-makers. Liu Yi, for example, is an artist and visual consultant for DAWA. Born with deformed legs, he walked on crutches for most of his life until he started using a wheelchair in recent years.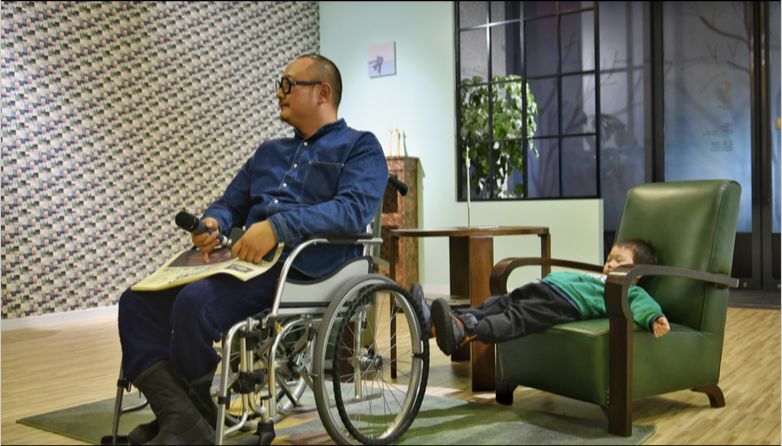 Liu Yi at the opening ceremony of his exhibition 12 Months at Goethe Open Space 2018 | © 61Creative
In a workshop at the Department of Culture and Education of the German Consulate General in Shanghai in 2018, he invited people to experience the facilities and barriers in the city from the perspective of wheelchair users, drawing attention to the user-oriented, public-facing approaches to design as well as the realities of the disabled communities.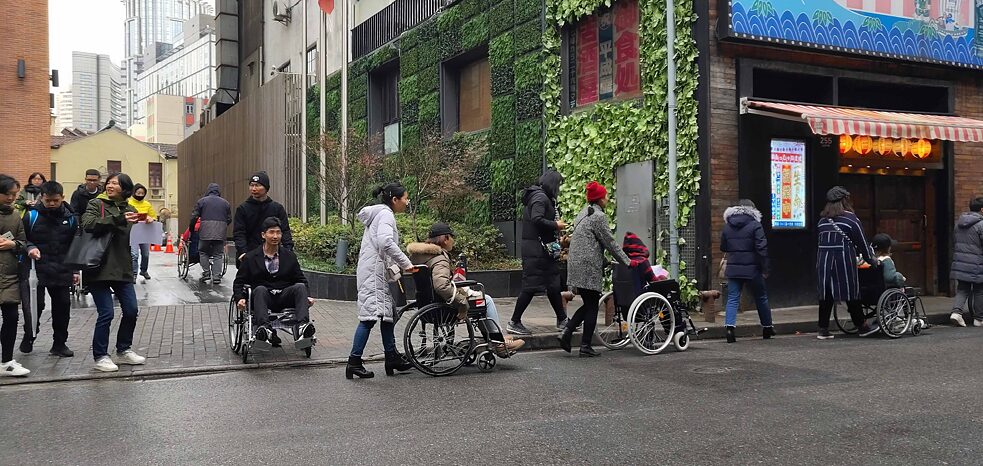 Visitors experiencing the city in wheelchairs | © 61creative
For a city in need of accessible designs, nature is a model of inclusion. The floral symbol in DAWA's logo comes from Liu Yi's everyday observation of nature. In his drawings, flowers are transformed into human figures. If the beauty of flowers exists in varied forms, the beauty of people should also be freed from a dominant social norm. He believes the essence of people's beauty remains the same regardless of disabilities, as "difference is uniqueness, and uniqueness is beauty."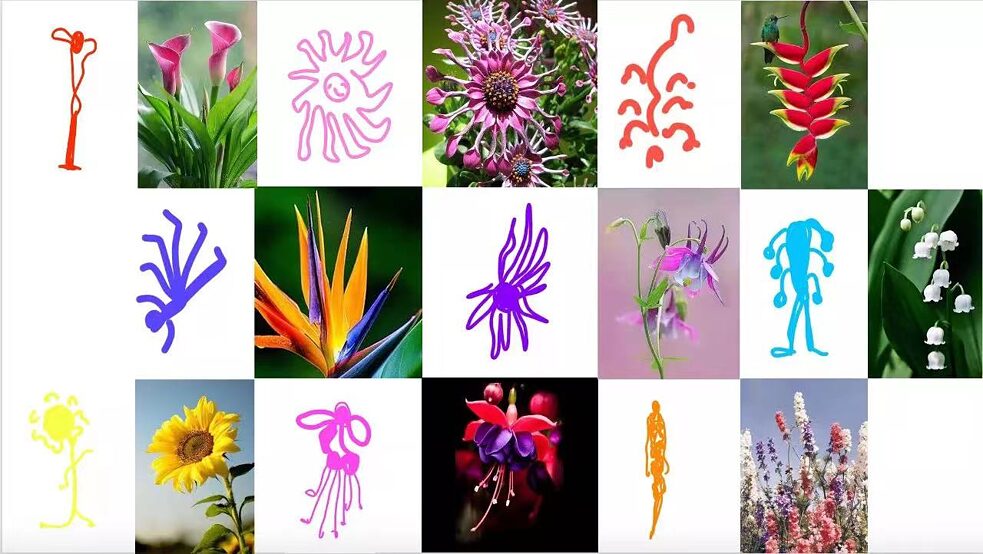 Liu Yi transforms flowers into human-like figures | © 61Creative
Based on this idea, designer Chen Hao joined Liu Yi in creating DAWA's visual identity. Chen Hao is a deaf person and the studio manager of more than 80 deaf designers. Although he has worked with disabled people for a long time, this is his first time designing for them.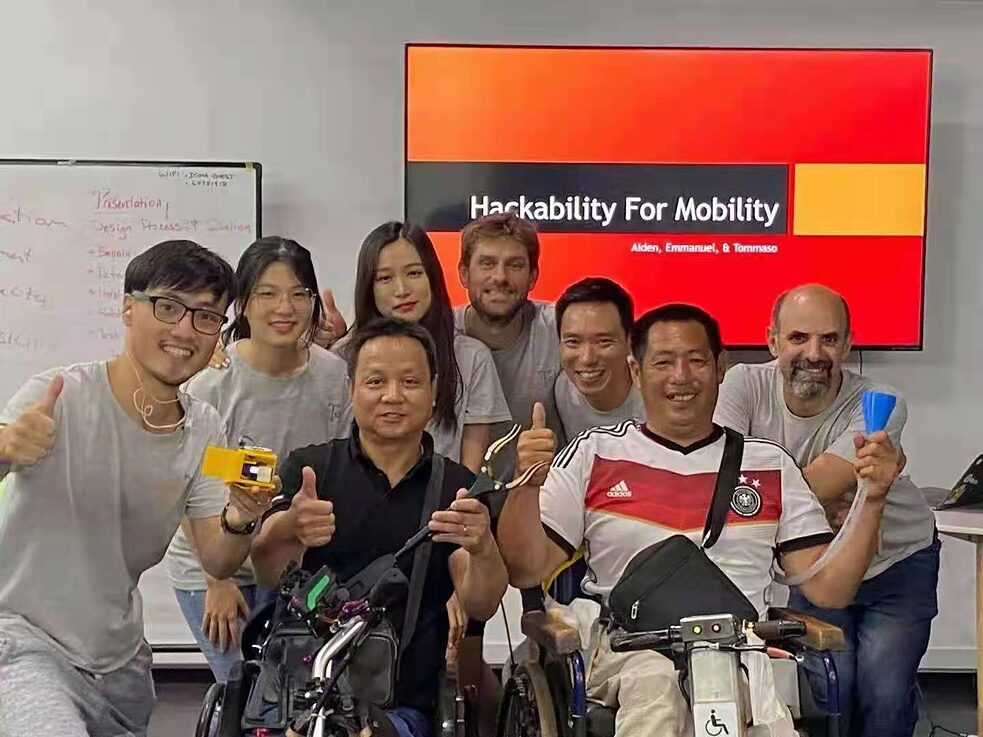 Chen Hao (first to the left) at inclusive design workshop "Hackability for Mobility" | © MustardTek
Ever since DAWA's founding, Oliver Hartmann has been consulting with a group of people with different disabilities, gauging their needs and suggestions for DAWA's programming. In terms of design, members who have low vision asked for high-contrasting colors and clearly delineated contours. The designers then adjusted the first draft of pastel palette and unrestrained lines, steering away from aesthetic conventions toward a wider audience.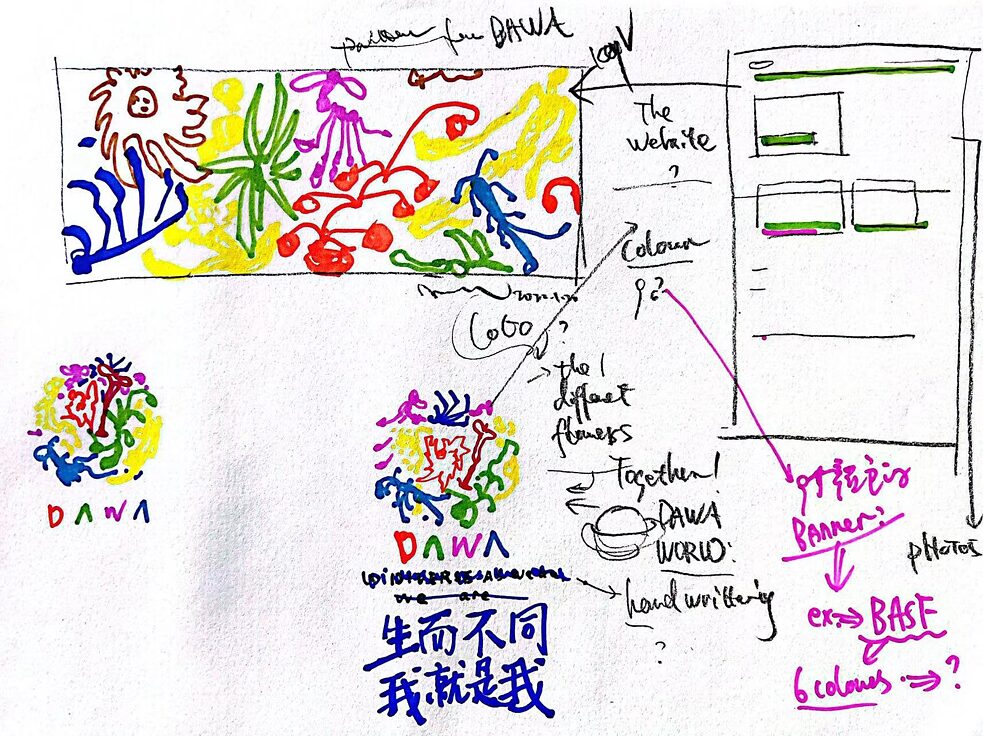 A sketch of DAWA's logo by Liu Yi | © 61Creative
"Everyone should have the right to see images," said Chen Hao, and protecting this right, in Liu Yi's view, is more important than pursuing professional excellence. The final design is thus an achievement of not just the designers but also the entire team of DAWA and its commitment to accessibility.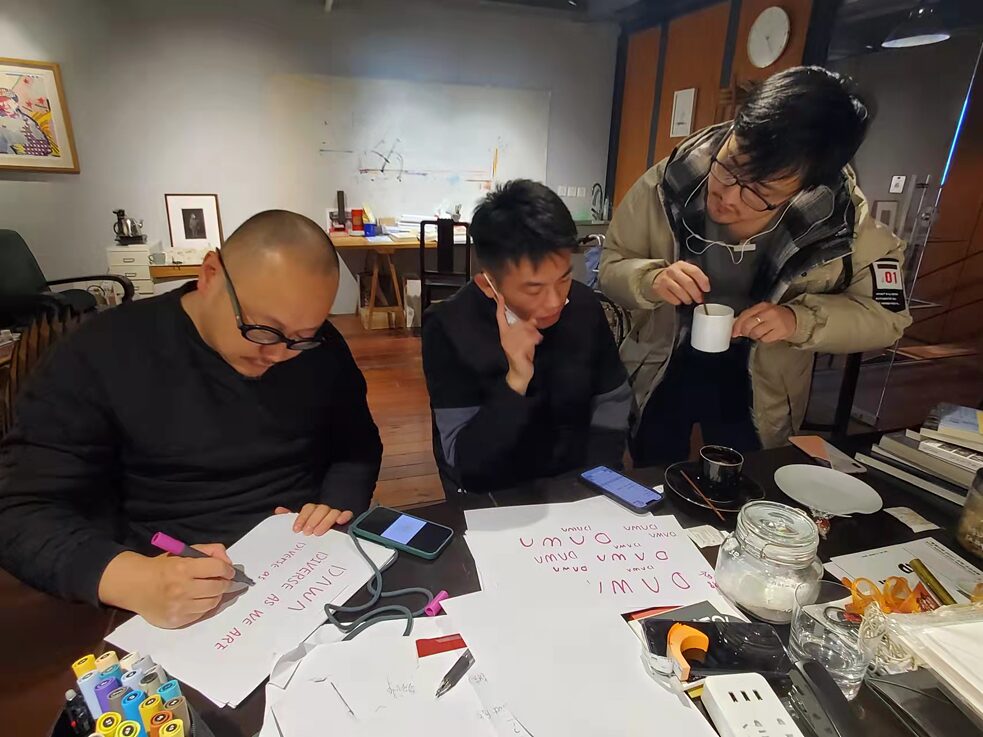 Liu Yi (left) and Chen Hao (right) working on DAWA's logo | © 61Creative
Accessibility is a series of practical decisions
The execution of accessibility was already challenging for the designers with disabilities; it was even more so for DAWA's event organizers who had little experience interacting with the disabled communities. OCAT Shanghai, for example, will host a screening and a discussion of a dance performance featuring artists with disabilities. As the Supervisor of Media and Education at the museum, Wu Yaqiong admits that creating an accessible environment for the event is like "solving puzzles."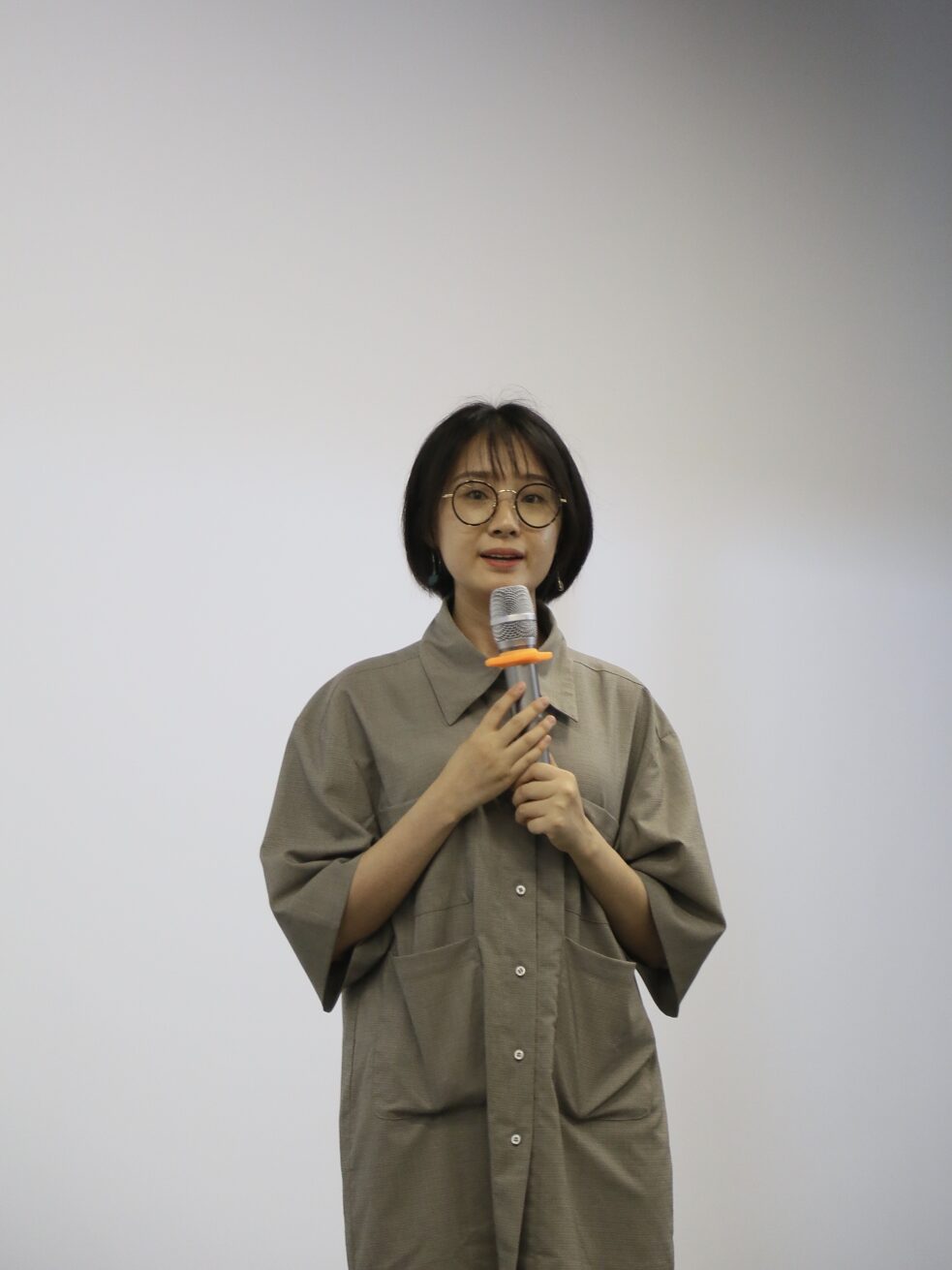 Wu Yaqiong speaking at an event |
The difficulty comes from its multimedia components. For example, the performance screening has two parts: the music and the image. To help deaf people experience the music, captions that describe sounds and speech need to be embedded in the screening, turning audio into visual. Additionally, directors of the performance will dial in remotely to share their concepts. Their speech cannot be recorded in advance, so it needs to be converted in real-time by a sign language interpreter.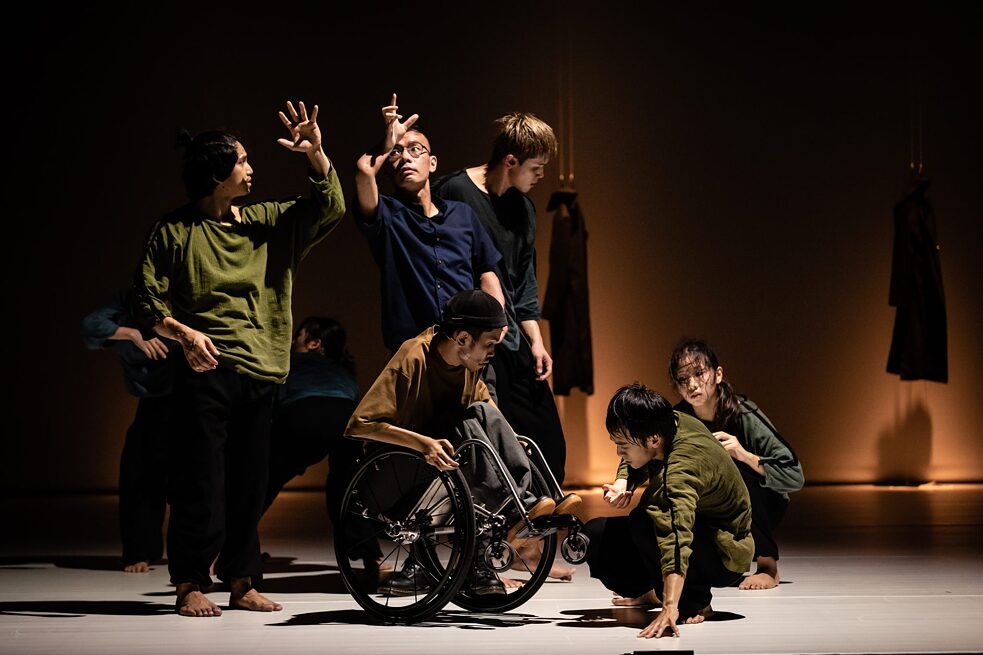 Produced by THE Dance Company and commissioned by Singapore Chinese Cultural Centre, dance performance. Pan will be screened at OCAT Shanghai. | © Bernie Ng scaled
Meanwhile, to help blind or low sighted people experience the image of the dance performance, there should be audio descriptions turning it into speech. However, audio descriptions might overlap with the performance's music and disrupt the experience of the hearing visitors, so headphones must be made available separating these tracks. Such real-time audio descriptions were more difficult to perform than Wu Yaqiong originally expected...
Avoiding conflict between the onsite screening, online talk, and accessibility services, while simultaneously meeting the individual needs of a very diverse audience, are some of the essential tasks that Wu Yaqiong is trying to tackle. In her work, accessibility is not a slogan, but a series of practical decisions.
Build trust and understanding between peoples
Wu Yaqiong and other representatives of Shanghai-based arts institutions not only focus on the events at their own venues, but also contribute to DAWA's program at large, facilitating communication, evaluation, and other aspects of DAWA's platform management in the core working group along with the culture officers at EU consulates.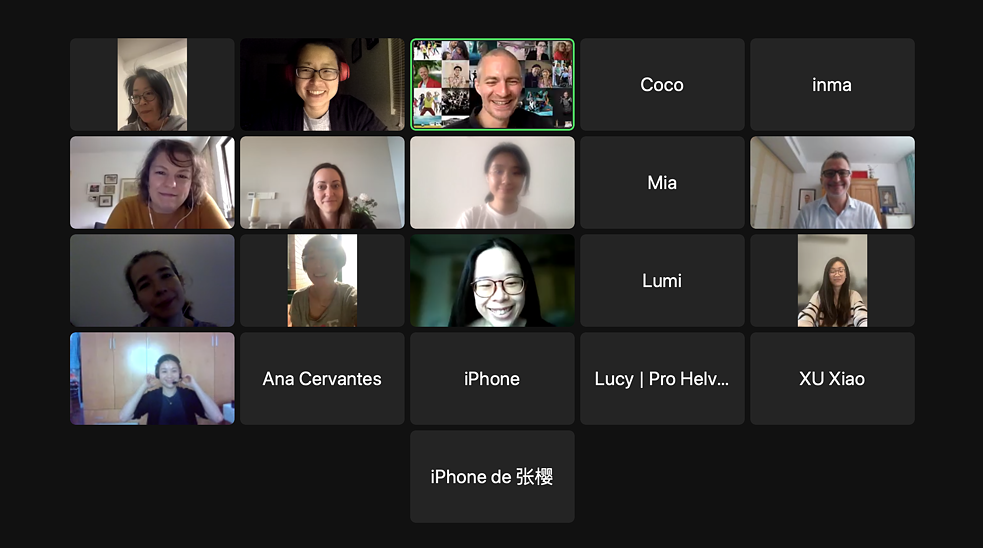 Online meeting of DAWA's core working group in May 2022 | © AKuB
The group brought together over 40 members from more than 30 consulates and local organizations. Such a large-scale partnership between Chinese and foreign nationals is unprecedented among the EU consulates in Shanghai. Despite the differences in their cultural backgrounds and work styles, members of the group found common ground not only as colleagues in DAWA but also as partners for further collaborations. As DAWA's funding sponsor EUNIC (EU National Institutes for Culture) in its program "European Spaces of Culture" states, these collaborations aim to "build trust and understanding between peoples," developing multinational, cross-cultural action networks through mutually respectful connections on both professional and interpersonal levels.
Ravemachine by Doris Uhlig combines the energies of human and machine in a performance of mix-abled dancers. It is organized by the Austrian Consulate General in Shanghai. | © Peter Empl
Imagine a better future
Envisioning DAWA's future editions, Lynn Fu, a seasoned curator and consultant of international performing arts in Shanghai, who sits on DAWA's steering committee to oversee the festival programming and accessibility, hopes the program will "maintain a light existence" to flow into new spaces, expanding the horizon of diversity to more cities and topics.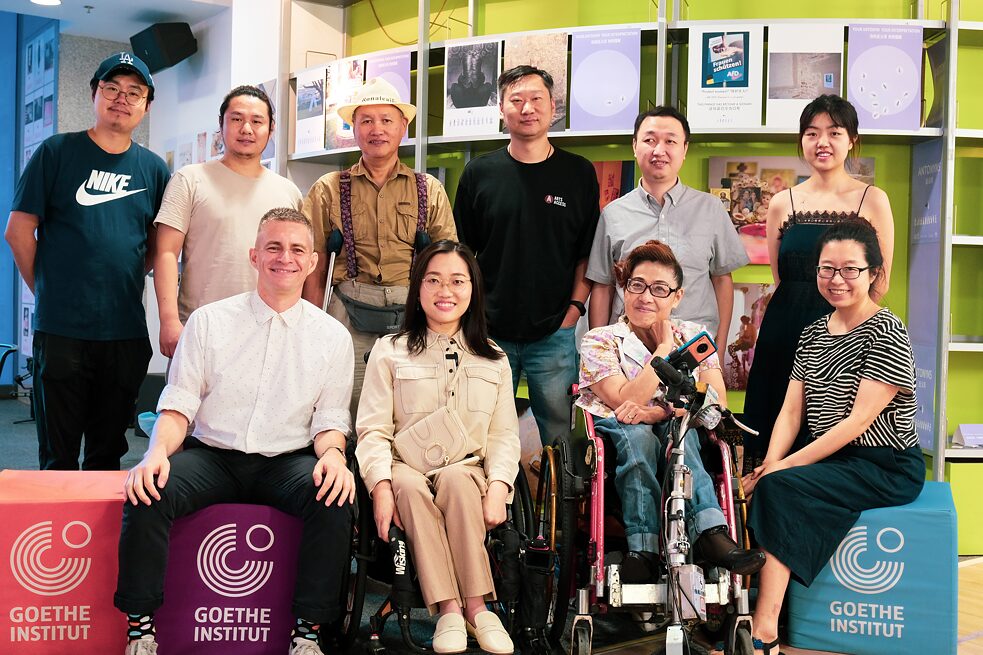 Lynn Fu (first to the right in the first row) with accessibility consultants | © AKuB
DAWA's pursuit of diversity is well reflected in the roster of events this year. In addition to showcasing the avant-garde expressions of artists with and without disabilities, the events cover a range of social subjects including depression, obesity, and refugees. On the artistic stage, the protagonists of these stories are neither the anonymous faces in the news, nor the marginalized stereotypes in mass media, but a myriad of distinctive, complex individuals.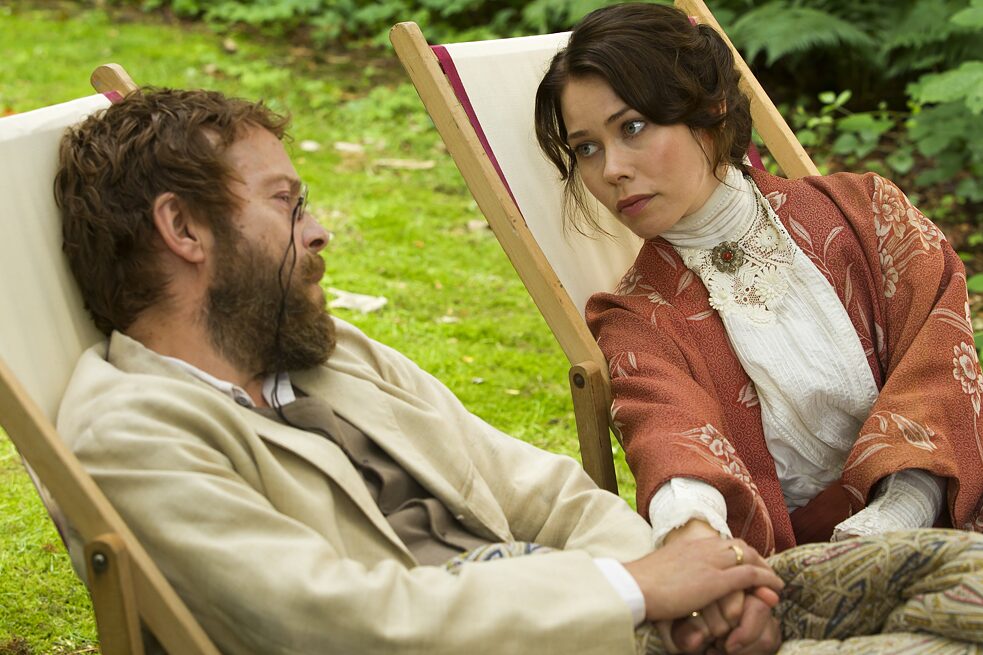 Marie Krøyer, a film exploring mental illness and intimacy, is organized by the Danish Consulate in Shanghai in collaboration with X Factory by TX Mall. | © Rolf Kronow
According to Lynn Fu, disabled artists in China are often viewed through the prism of non-disabled artists. To prove their competence and gain social recognition, disabled artists need to "hide" their differences and work twice as hard. The artists featured in DAWA, however, have chosen another path. Not only do they embrace their differences, but they also highlight these differences by performing side by side with others and standing firm on their authentic selves. This authenticity transcends the socially constructed standards of being, returns to the root of creative expression, and approaches the ultimate beauty of life.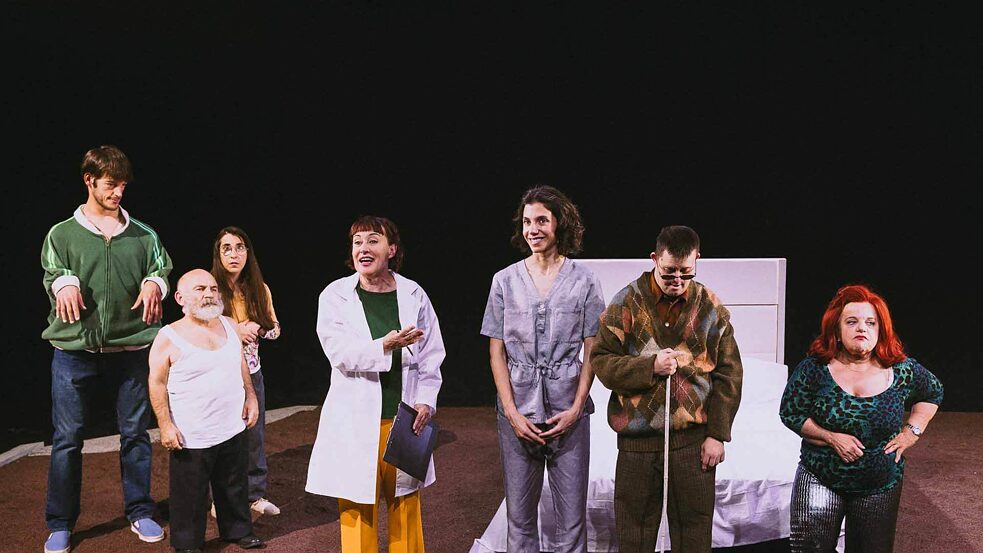 Supernormals confronts us with our preconceptions about people with disabilities. It is organized by the Ministry of Culture and Sports in Spain, INAEM, Centro Dramático Nacional, and CDAEM, together with the Miguel de Cervantes Library of the Spanish Consulate in Shanghai. | © Luz Soria
On the other hand, we are more alike than we are different. Under Shanghai's lockdown in the spring, a sense of helplessness struck people from every walk of life. As DAWA's members worked in confinement, their dedication to the program was as strong as ever. "When the city went into stagnation, DAWA became one of the few nice things in our lives that allowed us to imagine a better future," said Oliver Hartmann. Until that future arrives, he looks forward to sharing DAWA's current achievements with the public. "Let's get together, have a drink, and celebrate the diversity of life."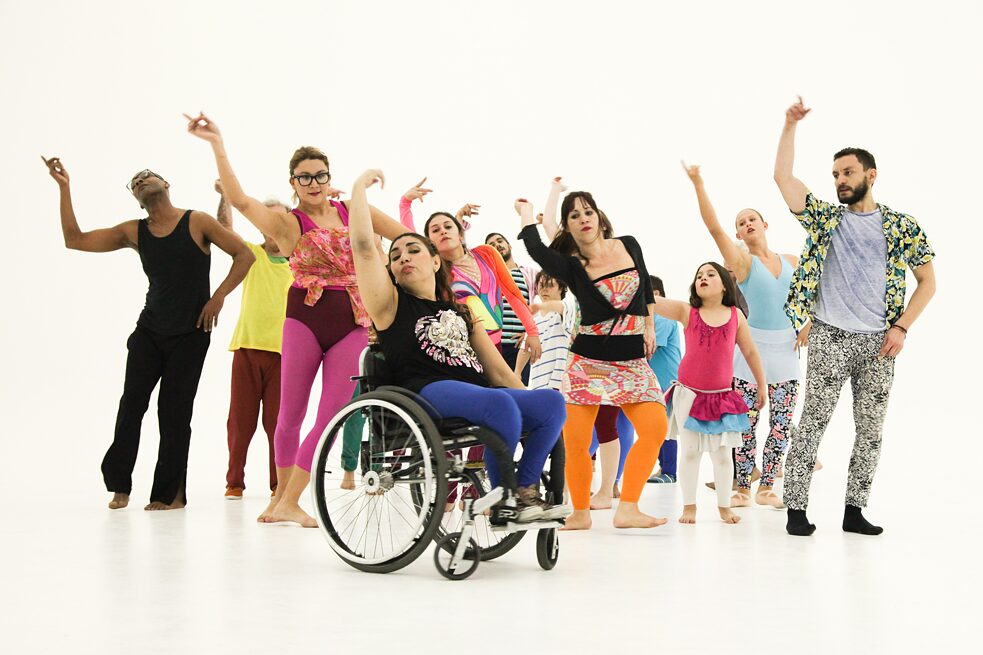 Gala, "an art form that is both festive and collective, brings together dance professionals and amateurs of diverse backgrounds," is organized by the French Consulate in Shanghai in collaboration with Theatre YOUNG. | © Photographer Josefina Tommasi, Museo de Arte Moderno de Buenos Aires (Argentina, August 2015)