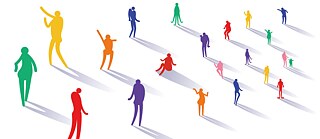 Thriving Together in Inclusive Theater
By Peng Linqian
In 2022, the 94th Academy Awards ceremony was held at the Dolby Theater in Hollywood. The dark horse CODA won three awards, one of which surprised not only the Hollywood stars and audiences but also the deaf community.
In 2022, the 94th Academy Awards ceremony was held at the Dolby Theater in Hollywood. The dark horse CODA won three awards, one of which surprised not only the Hollywood stars and audiences but also the deaf community. The award is for Best Supporting Actor, and the winner is Troy Kotsur. Besides his role as a film actor, he is more familiar to the American deaf audience as a theater actor at Deaf West Theatre.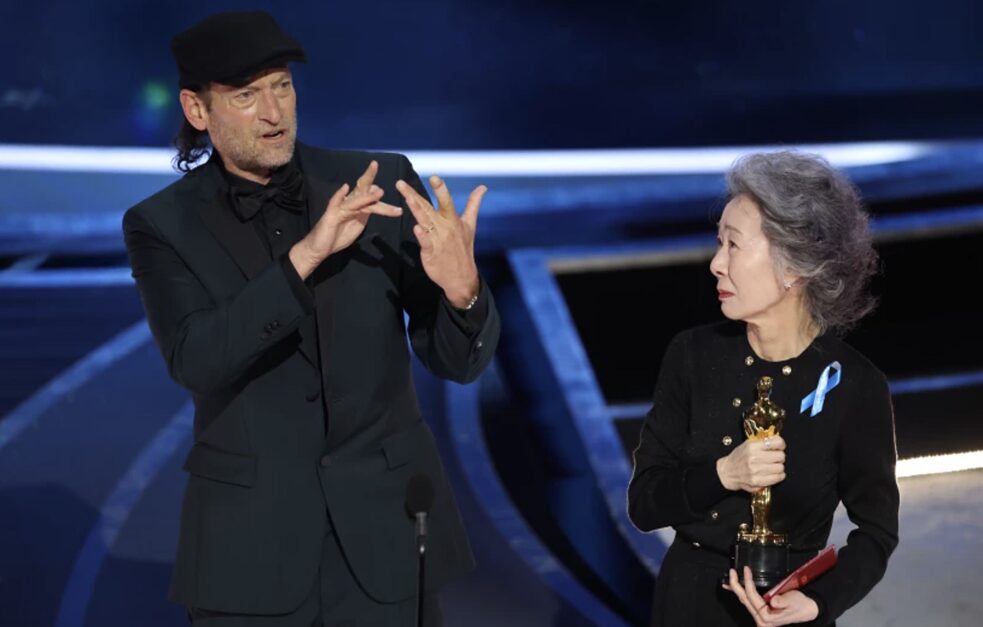 Troy Kotsur (left) made his acceptance speech at the Oscars ceremony in sign language, while the award presenter, Korean actress Youn Yuh-Jung, held his Best Supporting Actor trophy during the speech. | © Los Angeles Times
Since 1994, Kotsur has directed and acted in many plays at Deaf West Theatre including
A Streetcar Named Desire
,
Of Mice and Men
, and
Ophelia
, and staged the musical
Big River
for the first time in 2001. Deaf West Theatre has supported countless deaf actors and collaborations between disabled and non-disabled actors, among which
Spring Awakening
is the most famous.
However, the making of
Spring Awakening
and other inclusive theater productions is not always easy. It is a strenuous yet powerful process. It represents the struggle of the disability communities, the source of artistic diversity, and the progress of social inclusion.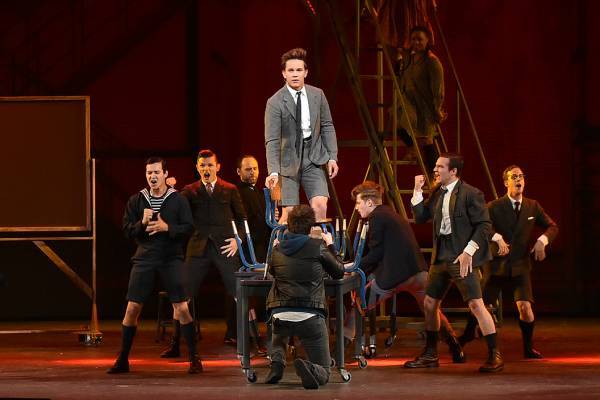 A photo of Spring Awakening, featuring a group of male actors dancing with their arms in the air and the male protagonist in the middle standing on a chair and facing forward | © Getty Images for Tony Awards Productions
The significance of inclusive theater
In 1946, Robert Panara and Bernard Bragg, professors at Gallaudet University in the United States, came up with the idea of ​​designing a theater for the deaf. In 1963, the play they created for the deaf caught the attention of Dr. Edna Levine, professor of deaf studies at New York University.
Dr. Edna Levine had been following the development of deaf education for a long time. He found inspiration in Bragg's idea of ​​establishing a theater for the deaf and saw it as an opportunity to connect the deaf community with the hearing community because sign language is the best tool for the public to learn about deaf art. With government funding, Levin and Bragg collaborated with Broadway directors, actors, producers, and stage designers and founded the National Theatre for the Deaf.

The official website of the National Theater of the Deaf, with a blue background, the theater's full English name and logo, and images of actors in black and white | © National Theater of the Deaf
In the decades to come, the National Theatre for the Deaf was a trailblazer. For the Theatre, to help the disability communities gain confidence and dignity is to provide the audience with perspectives of diversity and inclusion.
This mission was also referred to as "disability empowerment," but it was seldom discussed or even paid attention to in the theater field.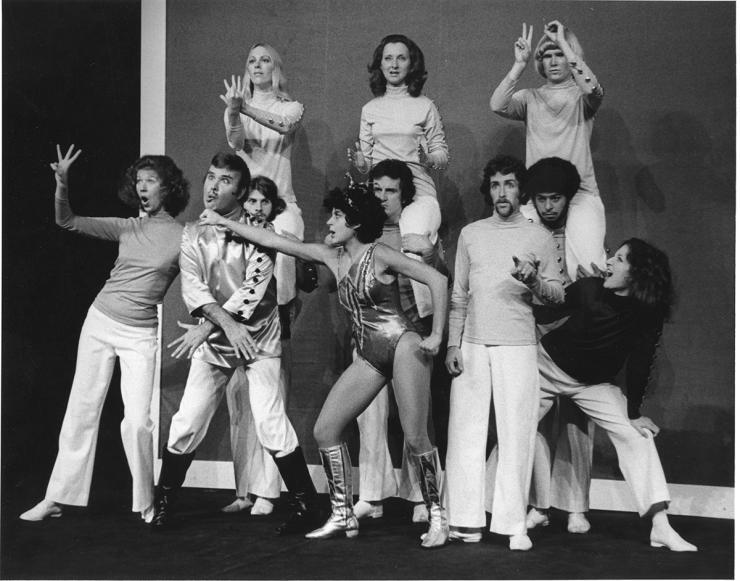 A black-and-white photo of early deaf theater actors in the United States in different poses facing the camera | © Wikipedia
In the past, disabled actors were often insulted or teased. The freak show, for example, once popular among circuses around the world, found people with uncommon physical conditions and even artificially removed their body parts so they could be trained to perform on stage. These profit-seekers objectified, vilified, and exoticized disabled actors to please the audience while leaving the actors in misery.
Discriminations were also found in mainstream productions. For example, in
Richard III
, Shakespeare used Richard III's physical disability as a symbol of his "villain" character because a "deformed", "incomplete" body must be morally inferior.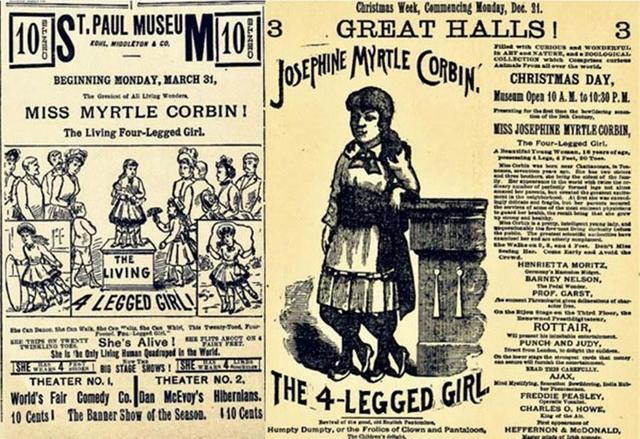 Poster of a freak show from the last century, featuring the drawing of a girl with four legs on a black-and-yellow background | © internet sources
After the disability arts and culture movement in the United States and the United Kingdom in the 1980s, the roles played by disabled people on stage changed as people with disabilities were integrated into mainstream society. They played more positive roles and no longer felt ashamed to show their disabilities.
This transformation is the core of inclusive theater. On one hand, inclusive theater respects and supports disabled actors, helping them realize their full potential. On the other hand, it educates the public and encourages the communities with and without disabilities to collaborate and support one another. It allows people to see the things that are usually hidden from their everyday lives.
Its creativity and innovation are awe-inspiring. It transcends cultures, communities, borders, and even languages.
For example, those who are deaf can "speak" in sign language, those who are physically disabled can charge into theatrical battles in wheelchairs, and those who are blind can play music. These roles are not always recognized by the mainstream but are celebrated in an inclusive theater. We can see actors of different identities perform in a harmonious symbiosis.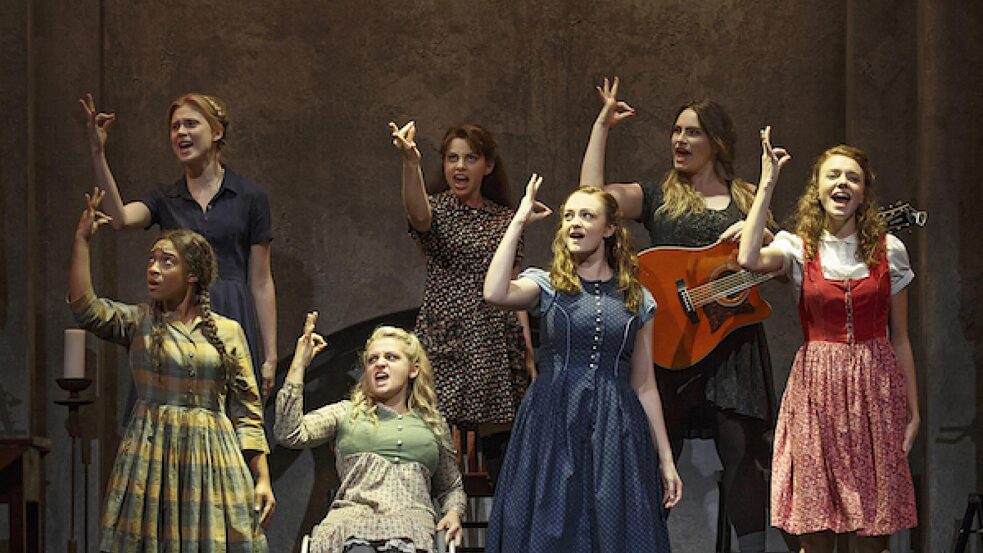 A group of disabled actors in costumes of different colors, singing and signing on stage | © Joan Marcus
The development and accomplishment of inclusive theater
Because of the challenges faced by disabled actors, "breaking through barriers" has become a recurring theme in inclusive theater.
Some theaters have incorporated the theme into their productions. That Uppity Theatre Company in the United States, for example, has been producing plays for social justice since its founding in 1989. They support gay rights, discuss gender issues, and advocate for the inclusion of people with disabilities. For example, they created a story about a child who greets a person in a wheelchair. They dance and laugh together and become friends.
Another example is Theatre Breaking Through Barriers, or TBTB, founded in the United States in 1979. It was initiated by a group of sighted actors recording plays for the blind. In 1982, the theater started inviting blind and partially sighted actors to perform with sighted actors. It produced a series of plays featuring blind and partially sighted performers as main characters and gradually incorporated all disabled performers.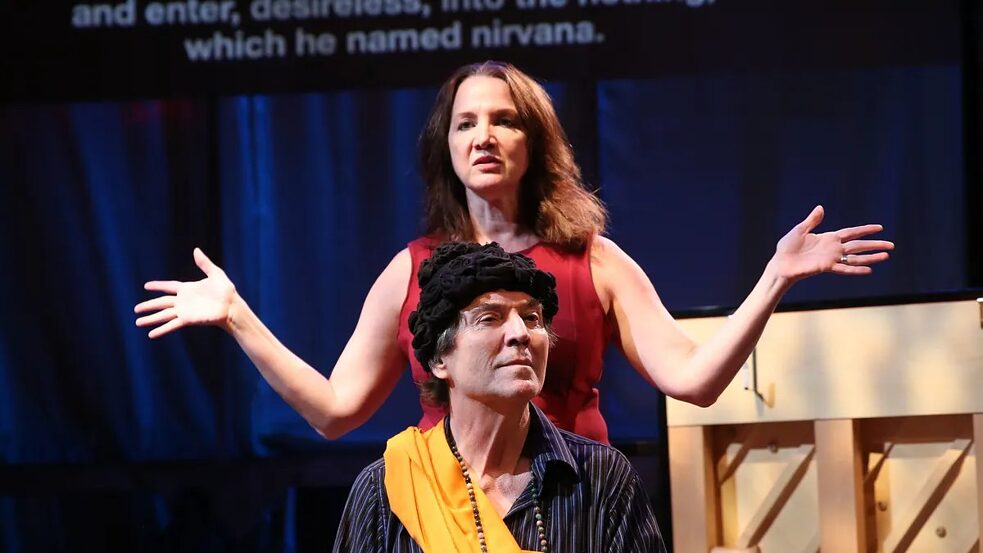 Photo of a TBTB performance, featuring two partially sighted actors | © TBTB website
As the practice of inclusive theater evolved, more and more plays started to recognize the narrative potential of disabled performers. For example, some productions of
Notre Dame de Paris
invited actors with learning disabilities to play Quasimodo, establishing a deeper connection with the character's pain and anger that transcend the performances by non-disabled actors.
Other plays advocating for inclusion include the aforementioned Spring Awakening, China's
Nearby Ripples
,
Ringing
,
The Story of Birds
, and the ones featuring disabled women produced by Beijing Enable Sister Center.
At the core of these productions is the collaboration between the disabled and the non-disabled. For example, Snail Post Office: Theater Workshop for the Youth who are Deaf and Hard of Hearing, sponsored by Chongqing Zhilong Social Work Service Center and produced by Duoduo, was selected for the Qiantan 31 Youth Creative Arts Program in 2021. In August of the same year, the workshop invited children who are deaf and hard of hearing to participate in interactive performances and games through storytelling, picture books, and other creative expressions from the perspective of deaf children. The workshop also invited Chen Si'an, a young Chinese writer and theater director, to help the deaf and hard of hearing children and teens enter the field of writing and theater and explore their bodily expressions. Through these activities, disabled and non-disabled children and teens developed lasting friendships.
It is worth noting that these experiences were made possible because the non-disabled participants did not look down on the disabled with a "bourgeois compassion." Instead, they regarded the inclusion of the disabled as a symbol of equality and diversity.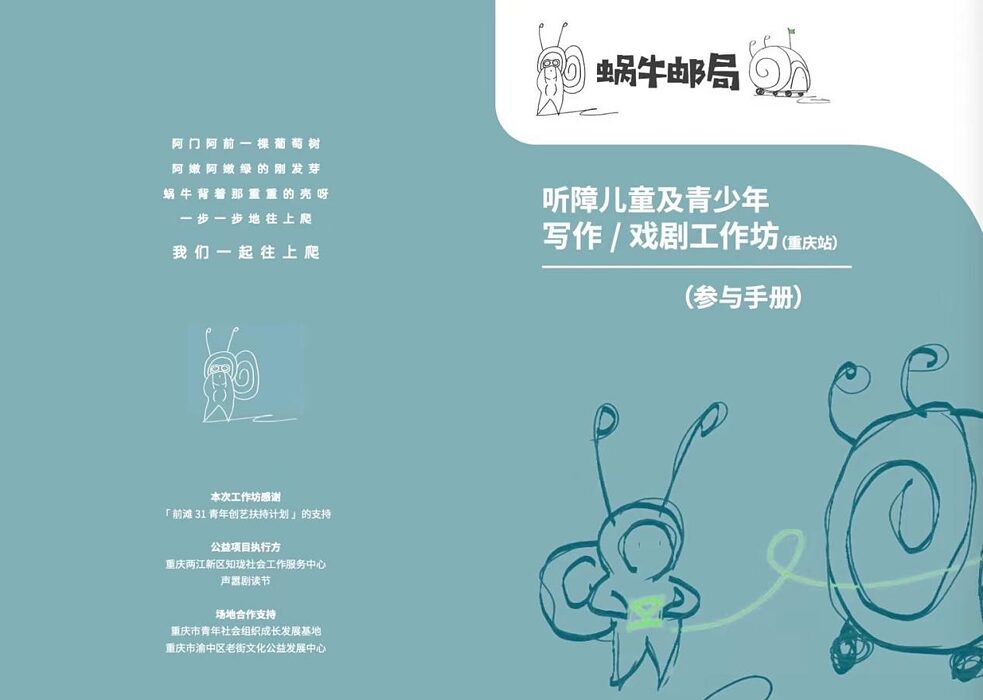 The participation manual for children designed by Snail Post Office | © WeChat account of Chongqing Zhilong Social Work Service Center
The benefit of inclusive theater
As more and more people with disabilities participated in the art scene and appeared on stage, plays and venues also went through major transformations.
For example, Graeae Theatre Company in the United Kingdom is a professional theater company dedicated to accessibility by giving opportunities to disabled actors, directors, playwrights, and theater crew. It provides sign language, captions, and audio descriptions through human interpretation and machine technology, facilitating the expression of disabled artists while helping non-disabled audiences gain a better understanding of the plays.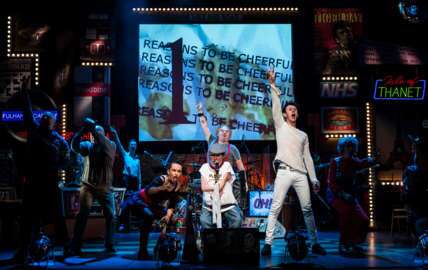 Photo of a performance by Graeae Theatre Company, showing various accessibility facilities | © official website of Graeae Theatre Company
In China, productions with accessibility components have slowly emerged.
Kinky Boots
in 2018 and
Frankenstein
in 2022 brought sign language interpreters on stage. Three Sisters in 2018 adapted Chekhov's masterpiece into a sign language version, presenting Russian sign language and Chinese subtitles. Its mime-like performance showed great power of expression.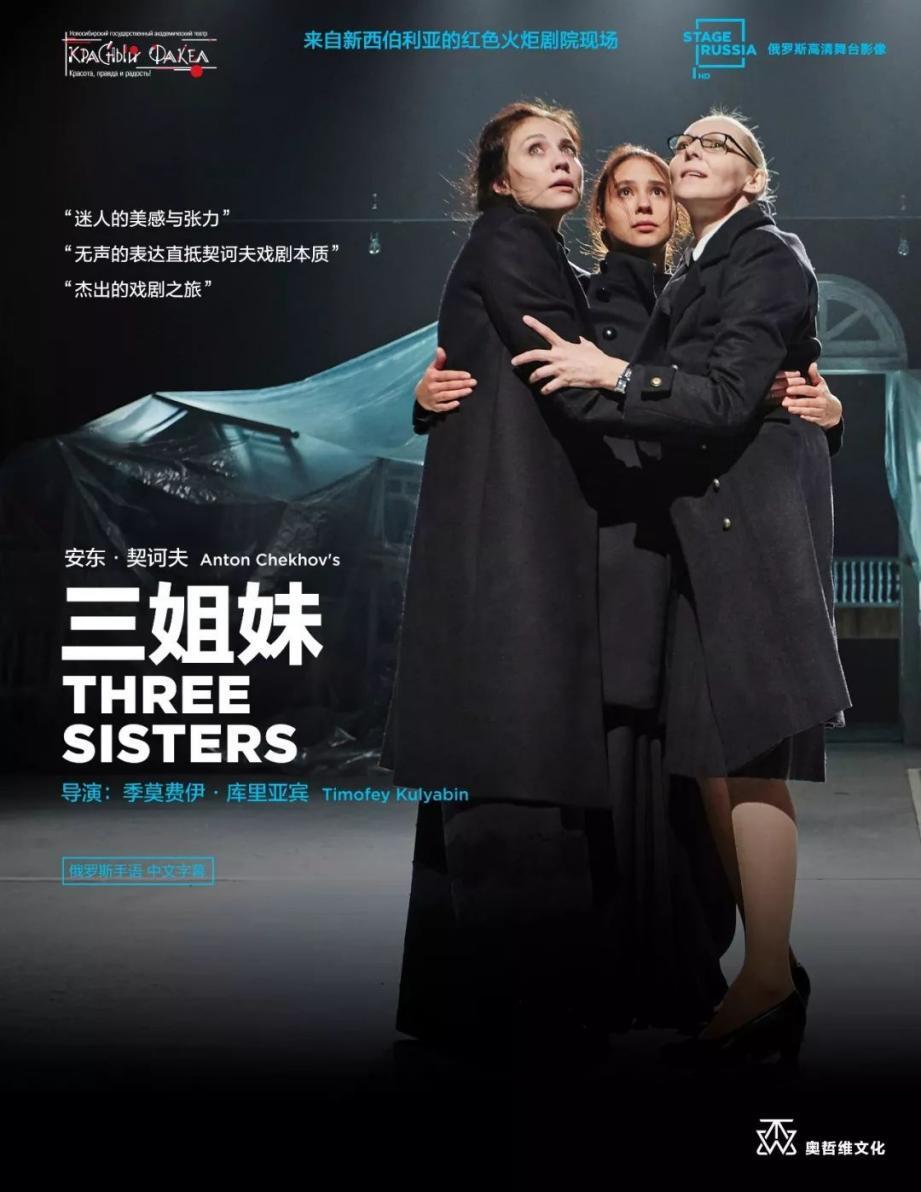 Poster of the stage recording of Three Sisters in China, featuring three women in embrace looking up and forward | © internet sources
The disability communities have brought other changes to theaters, establishing accessibility facilities like barrier-free ramps at art venues, audio descriptions in videos, touch devices, sign language interpretations, interpretive texts, hearing aids, and other tools that make information more accessible.
For example, Chongqing Zhilong Social Work Service Center held China's first Lumen Barrier-Free Children's Art Festival in 2021. The Braille buttons at the elevator entrance, the sign language guided tours at the exhibition, and the display of digital works of art led the exhibition venue, Jinshan Yiku Art Market, to explore the possibilities of accessibility services and provided practical experiences for the venue to host more disabled visitors in the future.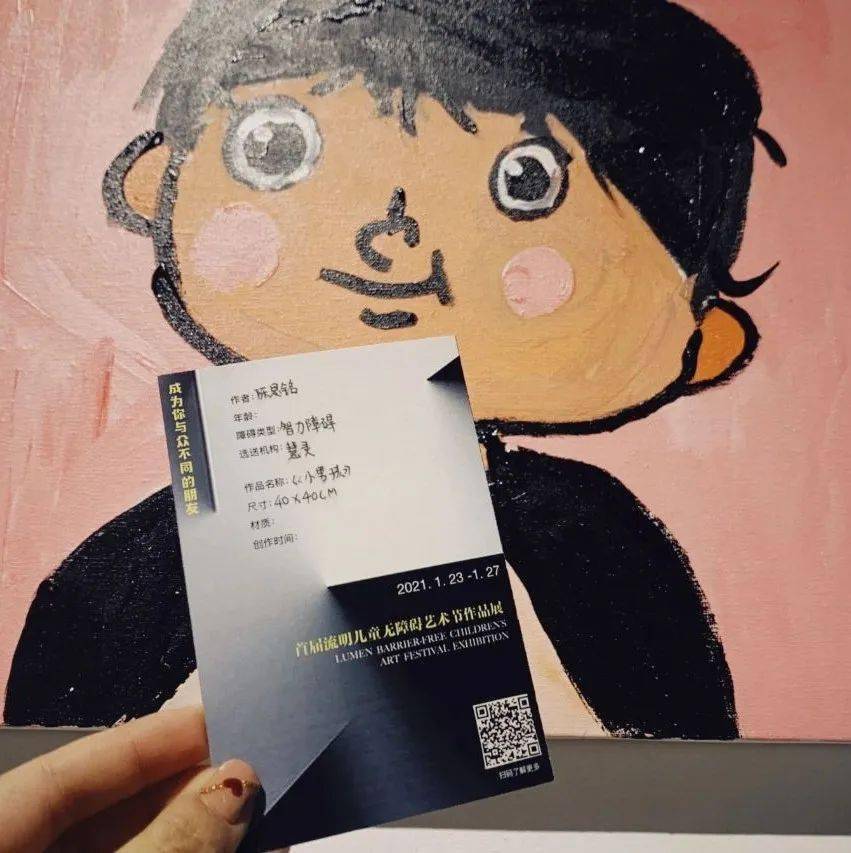 Photo of a hand holding an artwork label in front of a painting at Lumen Children's Barrier-Free Art Festival | © WeChat account of Chongqing Zhilong Social Work Service Center
From rebelling against the oppression that disabled actors were subjected to and fighting for their equality, to inspiring and motivating them to explore their intrinsic power through theater performances, and to solving the physical obstacles on and off stage, inclusive theater strives to challenge the stereotype of disabled people as miserable, helpless, and pitiful victims.
Inclusive theater allows people with disabilities to be treated equally in society and applauded on stage. It is a seed that disabled people have been planting for decades and a flower cultivated by non-disabled people with care.
When people realize that disabled performers are not unnecessary but crucial members of the theater field, the barriers in our minds will also disappear.